News
Chapter in 'Jews, Liberalism, Antisemitism. A Global History' by Ozan Ozavci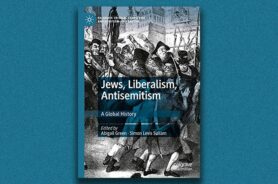 This month, Palgrave Macmillan published the book Jews, Liberalism, Antisemitism. A Global History external link. Dr Ozan Ozavci external link(History and Art History external link) contributed a chapter about Russian writer Vladimir Jabotinsky.
Jews, liberalism, and antisemitism
In the past, historians have mostly understood the relationship between Jews, liberalism and antisemitism as a European story, defined by the collapse of liberalism and the Holocaust. This volume challenges that perspective by taking a global approach. The essays explore how liberalism, citizenship, nationality, gender, religion, race functioned differently in European Jewish heartlands, in the Mediterranean peripheries of Spain and the Ottoman empire, and in the North American Atlantic world.
Vladimir Jabotinsky
Ozavci's chapter discusses the tensions between anti-Semitism and what he terms 'other liberalisms' that unfolded in non-Western contexts. Ozavci explains this in reference to the two-year long Istanbul sojourn of Vladimir Jabotinsky, the Russian writer and a leading member of the Zionist movement, in the immediate aftermath of the Young Turk Revolution of 1908.
Title: Jews, Liberalism, Antisemitism. A Global History
Editors: Abigail Green en Simon Levis Sullam
Publisher: Palgrave Macmillan
ISBN: 9783030482404